SAGA Award
(StyriAn Games Award)
We're proud to announce that this year during Button Festival the first SAGA Awards sponsored by UBIT/WKO and Game Dev Graz will be awarded!
Here's the details:
** Grand Prize powered by UBIT/WKO – € 1000 **
* Audience Choice Award *
There will be five named finalists selected by an international jury for the Grand Prize. The finalists will be named in April. Finalists will be given free passes to the Button Festival and space at the festival to present their games. The Audience Choice Award will be voted at the Button Festival by the audience of the festival from the finalists.
The winners will be announced at the Button Festival.
Criteria: The competition is also open for entries in the prototyping stage, and finalists will be mainly judged based on their potential. Submissions must include a 2-3 minute pitch-video including gameplay of the game. Games must be in a playable stage for the Button Festival.
Open to all independent game developers worldwide.
Deadlines:
April 1, Submission Deadline
April 15 22, Finalists Announced
May 19-20, Button Festival
International Jury: 
Annakaisa Kultima, University of Tampere, Finland
Jogi Neufeld, Subotron, Austria
Josh Olin, 3D Realms, US
Dan Da Rocha, Toxic Games, UK
Philomena Schwab, Stray Fawn Studio, Switzerland
---
Get to know the five finalists here:
Title: A Hole New World (Mad Gear Games) 
The city is being invaded by monsters from the Upside Down World! You, the Potion Master, must defeat evil all alone, with no tutorials or "Easy Mode" to assist you. You'll have to rely on the help of Fäy, your companion fairy, and your potions! Jump and shoot like they did in the good ol' NES days. Fight enemies in your world and in the Upside Down World! Defeat gigantic bosses and acquire their powers!
---
Title: Subwords (Klemens Strasser)
Subwords is a fun mix between a trivia and a word game for iOS. Words are split into fragments and you have to put them back together. To make it easier, the words always correspond to a specific topic. There are 30 topics available, which range from animals to video game series and even greek history. The game features two different game modes: Classic and challenge. In classic, you simply have to put all words back together until no fragments are left. Challenge mode on the other hand gives you three minutes to find as many words as possible, while new fragments constantly appear on the screen. Subwords also gives you the possibility to challenge your friends online via GameCenter or locally using a single iPad.
---
Title: Drone Swarm (stillalive studios)
In Drone Swarm you control a swarm of thousands of drones to obliterate your enemies. You are the captain of the only human deep-space vessel tasked to find New Earth. Explore an unknown part of the galaxy filled with different aliens, dangers and opportunities. Establish first contact and use every means you deem necessary to save mankind. It's your choice! Beware though! The swarm has it's own will… The game is taking the player on a journey into the dark. His choices have direct impact on the game world and since the universe isn't black or white, they always have a downside. The easy choice will take the player down a dark spiral to losing his human moral and becoming the most feared warrior of a secret alien mind.
---
Title: Goliath VR (Wolfgang Tschauko)
Goliath VR is a local multi player game that makes use of one player's real physical body to extend the level for the other player to explore. The two players are named Goliath and David and the playing experience for each of the players is completely different. Goliath controls a real time created body representation by moving his own body. David is controlled with mouse and keyboard like in any Jump&Run game. The displayed body of Goliath can be used by David as an extension of the level. Goliath can help David to cross abysses or reach higher platforms. David is highly vulnerable to fire and other dangers so Goliath must help to protect David by warding off fireballs or lava streams. Both are locked up in a lava cave, and only by working together and collecting coins and keys they can manage to open the final door to freedom.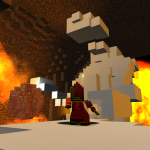 ---
Title: Pixel Soldier (Accidently Awesome Studios)
Pixel Soldier is a GameBoy-styled fast-paced Run 'n' Gun. Shoot and dash your way through various stages and fight frantic bosses. Pixel Soldier started as a submission for GameBoy Jam 5 in 2016 and has been in development since then. We aim to bring it to mobile as the GameBoy controls lend itself perfectly for mobile devices.