SAGA Award 2021

We're proud to announce the 5th edition of our ANNUAL SAGA Awards!
Have a look at the previous years: 2020, 2019, 2018, 2017
Here are the details:
** Grand Prize **
The finalists are named by an international jury for the Grand Prize. Finalists will be given a virtual slot/exhibition possibility at the Game Dev Days to present their games.
Submit your game pitches here: SAGA 2021 Google Form
The winners will be announced at the Game Dev Days.
Criteria:
Open to all independent game developers from Austria.
The game must be developed fully or partly in Austria.
The competition is also open for entries in the prototyping stage, and finalists will be mainly judged based on their potential.
Submissions must include a 2-3 minute pitch video including the gameplay of the game and a 1-minute trailer.
Games must be in a playable stage for the Game Dev Days (online) and must be presented at the virtual conference.
Award-winning games from previous years are not eligible for re-submission.
Deadlines:
May 7, Preliminary Submission Deadline
May 18, Finalists Announced
Jun 18, Award Ceremony @ Game Dev Days Online
International Jury: 
Tara J. Brannigan, Director of Player Experience at Behaviour Interactive, Canada
Tobias Kopka, Freelance Curator, Facilitator, Advisor (curatomic / Reboot Develop et al.), Germany
Daniel Gilbert, Accessibility Advocate, Kentucky, US 
Maxi Molina, #TheHayseedKnigh, Spain
Philipp Stollenmayer, kamibox.de, Germany
Sithé Ncube, Founder at Prosearium.net and Ubongo Game Lab, A MAZE Johannesburg, Zambia
Ivan Buchta, Bohemia Interactive, Cz
---
Winner
Finalists
---
Get to know the games
It's 2065, and you are an interrogator-model android tasked with rooting out deviants among your own kind. You must probe for lies, monitor and exploit emotional spikes, earn the trust of your subjects, and make the final call: release, or destroy?
---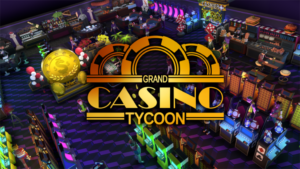 In this tycoon your goal is to squeeze as much money out of gamblers as possible. Making them happy is only a means to an end. Like in real casinos there are way more lucrative ways to drain your guest. Build cameras to find out how they respond to different experiences. As soon as you know what the like, manipulate them by providing them with their favorite games and food, filling them up and playing their favorite music. But foremost try to separate them from guest they don't like. Build a maze of entertainment for each of the 8 different gambler type and make sure they only leave when they have no money left.
---
Social Anxiety and personal space are topics that are more present than ever. Some aspects of personal space are even government-regulated in current times. The topic of social anxiety is important to me for a long time as I also suffer from said condition. I united with the artists Aleksander Kaplu (art) and Moritz Haberkorn (sound) to create this first part of a planned 3 part installation about our experience with anxiety and take the viewers into the depths of Vienna-based subway U6. The experience lasts 10 minutes and will grant the participants a glimpse of what it could be like for a person with anxiety to ride an overcrowded subway. Emphasized with a visceral soundtrack and minimalist art this virtual reality installation means to raise awareness and give an insight to an omnipresent and hardly discussed topic.
---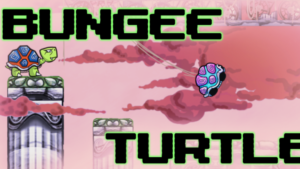 Bungee turtle, a new kind of 2D platformer, is the only mobile game to feature a real life bungee rope. Bungee, jump & run with our heroes Bantu & Banta, two turtles that love to bungee and are always hungry. Grab a bungee rope and move it along rails while avoiding walls and spikes and fighting off enemies. Collect as many veggies and fruits to set new high scores and coins to unlock all skins. But be careful… there are monsters everywhere… and yes, they also love to bungee. Throw stones to knock them out and if you happen to run out of ammo, then hide in your shell to reduce the damage. Keep your eyes open for treasure chambers full of coins, fruit and veggies. Features:
44 levels
treasure chambers
2 worlds, 2 seasons
27 skins
Intuitive controls
12 enemies
3 power ups
iOS: https://apps.apple.com/us/app/id1492627354 Android: https://play.google.com/store/apps/details?id=eu.tawil.bungeeturtle
---
Monster Hunt Vienna is a digital urban game to discover Vienna using maps, riddles, stories and Google Streetview. In the game, you look for "Monsters" that are actually curious things that we have collected and written stories for. You can either play remotely using Streetview, or on location in Vienna with GPS. Once you find the monsters and answer the riddle, then the story of the Monster becomes available. Our first games were analog Monster Hunts for Vienna in the form of a pack of cards with a city map. We had sold already more than 6000 packs when COVID-19 hit and disabled people from even going outside. That's when we came up with Streetview concept and made a simple web game for our community. During the lockdown in April 2020, every day we sent them a Monster to find in Vienna, and called it "A Monster A Day." You can still try it here: 
https://citygames.wien/amad-en
Now, we are turning it into a mobile game for people who cannot come to Vienna physically. The game will contain several packs based on different themes, and has a complete new design inspired by Vienna and its stories.
---
Create and manage your own music festival empire. Book bands, setup stages, organise your line-up, layout tents and toilets, roll out the food trucks and build your festival's reputation to appease sponsors and earn big bucks!
---
Help Yourself is a puzzle shooter where you must work together with yourself – be your own best teammate! Every action you perform in a time loop is precisely replicated by a clone of you in the next loop. You have to cleverly plan ahead and cooperate with your clones across multiple timelines.
Innovative cloning and time loop mechanics that push the boundaries of what is possible in VR!
Unique blend of digital and analogue art styles.
Perfect for VR beginners and experienced users – easy to pick up, but challenging to master.
Comfortable movement.
Game is still in development – new content and level editor coming!
---